Often lost in the debate over forest management is that timber production is already prohibited or restricted on three quarters of National Forest System lands.  Efforts to accelerate forest management activities are primarily focused on the small remaining portion where trees can be harvested.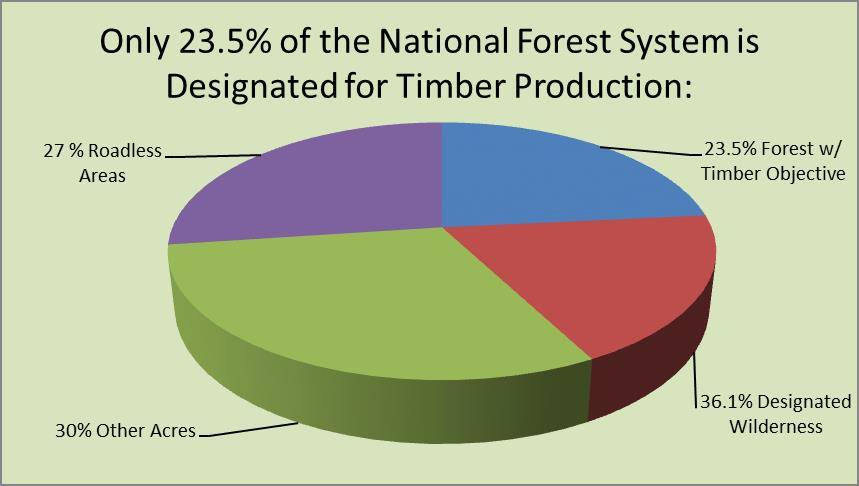 Over 36 percent of NFS lands are designated as wilderness areas where, by law, forest management activities such as mechanical thinning are strictly prohibited.  Yet another 27 percent have been set aside as "Roadless" where logging is greatly restricted because road building is generally prohibited.  The remaining 30 percent of NFS lands are managed for specific non-timber uses and objectives, such as recreation areas, or have been determined to be unsuitable for management activities.
According to a Congressional Research Service Report: Most NFS lands are concentrated in the West, though the Forest Service administers more federal land in the East than all other federal agencies combined.  The management goals for national forests are largely mandated under the Multiple-Use Sustained Yield Act of 1960 that is: "national forests are established and shall be administered for outdoor recreation, range, timber, watershed, and wildlife and fish purposes."
Outdoor recreation is the greatest use of the national forests, though timber sales are the largest source of revenue for the U.S. Forest Service.  At $160.2 million, timber dollars nearly doubled the $84.7 in revenue generated by recreation in Fiscal Year 2018.  
These uses of our national forests are not mutually exclusive.  Timber-generated dollars are often put directly back onto the landscape to improve recreational opportunities and to keep public lands accessible. Timber harvests are also used to restore or enhance wildlife habitat that is beneficial to many species and big game (see Commentary below).
Considering the heated rhetoric over the past year, remember that efforts to increase timber harvests and forest management are focused on the small portion of lands that are unreserved or already identified to provide timber, which directly supports land management and rural economies.  Litigation and forest obstruction often seeks to block forest management on this ever shrinking portion, especially as Congress continues to convert more NFS lands to designated wilderness.  
Fighting over a small slice of the pie