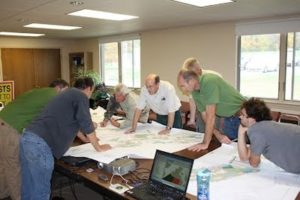 After decades of relative silence about national forest management, Virginia's State-level hunting conservation organizations are making their voice heard. Beginning in 2010 with the George Washington National Forest (GWNF) Forest Plan revision as members of the GWNF Stakeholder Collaborative, Virginia's State-level hunting organizations entered into partnership with many other national forest user interests.
These partnerships and collaborative efforts among a range of Virginia's GWJEFF forest users and the USFS present great opportunities to implement the GW Forest Plan. State entities of the Virginia State Chapter, National Wild Turkey Federation, The Virginia State Leadership Team of the Rocky Mountain Elk Foundation, The Virginia Bearhunters Association and the Virginia Deer Hunter Association signed a joint letter of support along with preservation and forest product advocates to support the GWNF Lower Cowpasture Restoration and Management Project.
This collaboratively planned and supported project, now in implementation, represents a significant step toward fulfilling the GW Forest Plan. Warm Springs James River District Ranger Patrick Sheridan, now retired, set this project into motion and current District Ranger Elizabeth McNichols oversees implementation. Currently, as an by-product of earlier partnerships, seven State-level hunting conservation organizations comprise the Virginia Wildlife Habitat Coalition and partner with supporting organizations that include the Virginia Department of Game and Inland Fisheries, the Wildlife Management Institute, the Society of American Foresters, and the Congressional Sportsmen's Foundation to advocate for wildlife habitat on Virginia's public lands. Hunting conservation organizations at State and local levels play a key role in setting a national direction for public forest management.
For the Lower Cowpasture Restoration and Management Project in a historical and future context, click here.
Wayne Thacker is Chair of the Virginia Wildlife Habitat Coalition 
Wayne Thacker: Virginia Hunting Conservation Groups Support Restoration Plan on George Washington National Forest