By Nick Smith, HFHC Executive Director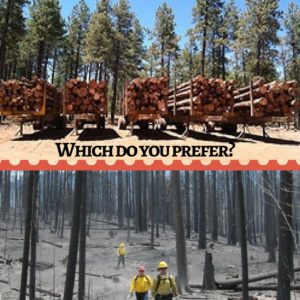 The Northwest Interagency Coordination Center recently reported the cost of fighting wildfires in Oregon this year has reached an all-time high of $514.6 million.  But the costs are likely much higher, because this figure doesn't include the loss of economic activity, tourism and impacts to public health from wildfire smoke.  According to the Western Forestry Leadership Coalition, total wildfire costs can range anywhere from two to 30 times greater than the reported suppression costs. 
An important solution to fewer catastrophic wildfires and smoke is to reform the management of Oregon's federally-owned forest lands, much of which have become overgrown with heavy fuels and are estimated to have over 570 million standing dead trees.   
"Hands-off" forest management on federal lands has been the rule for the past 25 years, and it isn't working.  Today we have a broken process that has paralyzed the ability of federal agencies to support local communities and manage our public lands for forest health, access, recreation, clean drinking water, wildlife habitat and other important values.  To improve federal forest management, Congress needs to give these agencies the policy tools and resources they need to do their jobs.
Taking action to reduce the risks of unnaturally severe fires isn't a partisan issue.  One example is the State of California that has been severely impacted by tree mortality and catastrophic wildfires, but isn't known for its conservative policymaking.  The state's Democratic-dominated legislature this summer approved a package that includes provisions aimed at aggressively reducing forest fuels.
California recognized that well-intentioned but arbitrary forest policies were hampering efforts to reduce fire risks and protect communities.  That's why their legislature voted to pass modest reforms to state environmental laws and make it easier for private landowners to remove trees and construct temporary roads to transport the harvested materials.  
It is common sense to give landowners greater flexibility to manage and protect their forests.  This is precisely what needs to be done on federal lands.  Currently, it can take a long as four years for the agency to move a forest project through the process, and even longer if the project is obstructed and litigated.  For too long the U.S. Forest Service has been hamstrung by counterproductive and costly regulations that prioritize bureaucracy and paperwork over forest management.  
The 2018 Farm Bill offers Congress an opportunity to enable federal land managers to expedite management activities on forests that are at immediate risk of catastrophic wildfire, insect infestations and disease.  In such cases federal land managers can use a variety of tools-whether it is logging, mechanized thinning, prescribed fire- that are appropriate to a given landscape and supported by science.  These forest projects can also provide timber to benefit rural communities and provide revenues to support public services and improvements to public lands such as road maintenance, fish passage and recreational amenities.   
It is time to recognize that our current forest policies are not working and are contributing to larger, more severe and costly wildfires.  It's time for elected officials in Washington, DC to take action by supporting forest management reforms in the Farm Bill.   With proactive forest management, public lands can be managed to mitigate risks and to provide the social, economic and environmental benefits we have come to value.
Give Federal Land Managers Flexibility to Reduce Fire, Smoke Risks