The invasion of Ukraine is a grave humanitarian crisis. It is also another reason for Americans to consider where their consumer products come from. As a variety of Western industries cut ties with Russia, human rights groups have called for a boycott of both Russian and Belorussian timber and wood products. 
As a result, Western forestry and equipment businesses have halted investments and shipments of forestry equipment and parts. If you've filled your gas tank lately, you already know the invasion is impacting global trade. And just like many other commodities, the invasion is likely to aggravate already-soaring lumber prices worldwide.
Prior to the invasion, Russia enjoyed a booming business of exporting manufactured lumber to the U.S., which spiked up to 179 percent between 2016 and 2020. According to U.S. Census Bureau Trade Data, the US imported around 337 Million Board Feet of forest products from Russia in 2021 to meet this need, an increase of 104% over 2020 imports.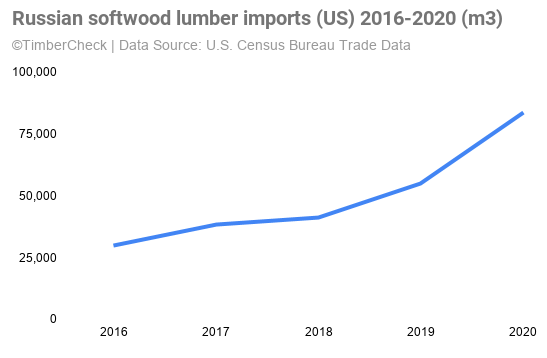 FFRC says congressional leaders are drafting legislation to bar the importation of finished wood products from the Russian Federation, while requiring the Forest Service to make up the difference. If national forests provided enough timber to make up the difference in Russian imports, harvest levels would still be below the roughly 6 BBF Feet that's currently allowed under existing Forest Plans across the country. 
It's unclear if such federal legislation would pass Congress and be signed by the President, but it comes at a time when the federal government is spending billions of dollars on a strategy to reduce wildfire risks on national forests. Many wood products manufacturers are currently operating under capacity due to inadequate log supplies. 
Increasing forest management treatments and timber harvests on overstocked and fire-prone federal forests could not only help the Forest Service achieve its mission, but it would also help domestic manufacturing and rural workers meet the needs of Americans for essential wood products.
Reducing imports from faraway places like Russia would offer other benefits, such as reduced carbon emissions as fewer products are transported by ships and trucks into American markets. American timber and wood products are also harvested, transported and manufactured under the strongest forest practices and environmental regulations on the planet. Our forest sector can help reduce the need to use wood from places that don't share our standards and commitment to sustainability.
Americans should consider where their products come from, but that is not to lessen the pain and suffering that many people are experiencing in Eastern Europe right now. Over 1.7 million refugees have been forced to flee Ukraine. Please consider supporting humanitarian relief through UNICEF or some other qualified charity. 
Conflict shines light on Russian wood imports to U.S.