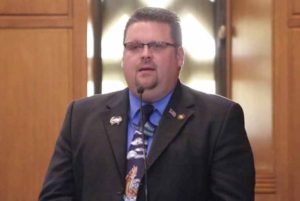 Healthy Forests, Healthy Communities recognizes Rep. David Brock Smith (R-Port Orford) for his work on forestry and rural job creation during the 2018 legislative session. As a member of the bipartisan Oregon Wildfire Caucus and as Vice Chair of the Oregon Legislative Coastal Caucus, Rep. Smith was a strong advocate on issues relating to forest health, catastrophic wildfire and economic development in rural Oregon.
During the 2018 session the Oregon Legislature debated a controversial "cap and trade" tax to address global warming. Rep. Smith brought much-needed attention to the carbon emissions resulting from catastrophic wildfires. Emissions from a major forest fire can equal those from millions of cars driven in the state in a single year. In addition to emitting large amounts of carbon dioxide, wildfires emit other greenhouse gasses and pollutants including methane and nitrous oxide that are harmful to public health and vulnerable populations such as the elderly.
Catastrophic wildfires are a problem on our federally-owned lands that make up 60 percent of Oregon's forested land base.  Much of our federal forests are at high risk of wildfires, insects and disease, partly due to the lack of active forest management, including timber harvesting and thinning that can help reduce fuel loads on these lands.
Oregon's federally-owned forests need active forest management to reduce these risks. Meanwhile, Oregon's timber industry needs wood to manufacture lumber for construction and other products we use every day. Oregon has the capacity to produce more carbon-storing products, which would create more family wage jobs in our rural communities. In addition, new technologies such as Cross Laminated Timber and biomass energy is opening new markets for smaller trees and lower-grade wood material that wouldn't be utilized for lumber.
That's why Rep. Smith joined Sen. Arnie Roblan (D-Coos Bay) in introducing HB 4109, which would direct the State of Oregon to seek new opportunities to boost carbon sequestration through active forest management and advanced wood products, among other technologies. This approach would encourage, not punish, businesses for investing in these technologies and hiring more Oregonians to manufacture products with low carbon footprints.
Rep. Smith also played a key role in the near-unanimous passage of bipartisan legislation (HB 4118) promoting the use of Good Neighbor Authority (GNA) in Oregon. Under federal law, GNA allows states to partner with the U.S. Forest Service to perform management activities on federal lands. Several states including Idaho are using this tool to increase the pace and scale of timber harvests and restoration, improving forest health while supporting jobs in rural communities.
Oregon signed a Good Neighbor Authority agreement with the Forest Service in 2016. The purpose of the agreement is to pursue projects, which will increase timber harvests, create jobs, reduce wildfires, improve wildlife habitats and watershed health, and stimulate local economies. In addition, the agreement prioritizes projects resulting in additive activities, maximizing economic benefits to Oregon and recovering agency costs of implementing projects.
HB 4118 directs state agencies to prioritize GNA projects that help achieve forest health and economic goals. It provides funding for Oregon Department of Forestry staff toperform timber sale layouts for GNA projects, design and implement internal processes to administer timber sales, and train ODF staff on how to conduct GNA timber sales.
Healthy Forests, Healthy Communities thanks Rep. Smith for his legislative advocacy on behalf of Oregon's rural, forested communities.
Session Recap: Rep. David Brock Smith Advocates for Forestry, Rural Jobs