By Steve Kariainen, HFHC Great Lakes Director
Why the Lake States Bat HCP is Important: 
The Endangered Species Act (ESA) was signed into law by President Nixon in 1973 for the purpose of protecting rare species from extinction.  The ESA made it illegal to "take" species deemed threatened or endangered.  "Taking" is defined as "to harass, harm, pursue, hunt, shoot, kill, trap, capture, or collect, or to attempt to engage in any such conduct."
Since then, various groups opposed to logging and forestry have successfully used the broad definition of "take" within the ESA on several occasions to stop timber harvests on behalf of certain threatened or endangered species.  The most successful use of the ESA to thwart logging was done on behalf of the Northern Spotted Owl in the Pacific Northwest in the 1990's, where timber harvests on federal lands came to a virtual halt and resulted in the closure of hundreds of mills across the states of Washington, Oregon and California in the years following.
There is obvious potential for the ESA to be successfully used again on behalf threatened or endangered species and to stop logging.  Rapidly declining bat populations in the Eastern U.S. have already been cited as the pretense for restricting logging and forestry operations.  Pressure for such restrictions will only increase as bat populations continue to drop.  The Lake States Forest Management Bat Habitat Conservation Plan (Bat HCP) is important because it's being developed to protect the bats, the forests, and the forest products industry.
Background:
In February 2006, White-nose Syndrome (WNS) – a fungal condition responsible for killing large numbers of cave-hibernating bats – was first discovered in North America in a cave in upstate New York.  WNS is believed to have been introduced from Europe to the U.S. by cave explorers using contaminated gear and has rapidly spread ever since.  WNS is now found in the Eastern U.S. in 25 states and in several Canadian provinces, wiping out 90% to 100% of the bats in many areas.
The Center for Biological Diversity (CBD) petitioned the U.S. Fish & Wildlife Service (FWS) in June 2011 to list the Northern Long-eared Bat (NLEB) and the Eastern Small-footed Bat as endangered species under authority of the ESA and to designate critical habitat.
In October 2013, FWS proposed listing only NLEB as endangered throughout its range but noted that critical bat habitat was not determinable.  FWS followed this proposed listing with a draft Interim Conference & Planning Guidance (ICPG) document in January 2014 which included various restrictions on timber harvesting from the Spring until late Fall throughout the bat's range.
An outpouring of comments from both public and private forestry sectors expressed concern that the ICPG did little to address the WNS problem and included restrictions that could devastate the forest products industry.  In January 2015 FWS proposed to list NLEB as threatened and to create a species-specific rule under authority of section 4(d) of the ESA for the NLEB.  This 4(d) rule was far less restrictive than the ICPG, but still included measures which provided important protections for bats.  In April 2015, FWS established an interim section 4(d) rule for the NLEB, and in January 2016 FWS finalized the section 4(d) rule for the NLEB.
In February 2016, CBD and three other groups announced their intent to sue FWS for authorizing logging and destruction of NLEB habitat.  In April 2016, FWS announced that review of information on NLEB habitat requirements confirms that designation of critical habitat is not prudent for the NLEB.
Development of the Lake States Bat HCP:
The Lake States of Michigan, Minnesota and Wisconsin recognized that declining bat populations and legal challenges by CBD and other groups make it increasingly likely that NLEB will at some point be listed as endangered by FWS.  Without an Incidental Take Permit (ITP) from FWS, harvest operations occurring between April and October could require project by project consultation with FWS to avoid illegal take.  The HCP is required by FWS in order for the states to apply for an ITP.
In 2015, the three states began to work jointly in developing the Bat HCP which will allow incidental take of NLEB and three other bat species (Little Brown Bat, Tri-colored Bat and Indiana Bat) during forestry operations (logging, road construction, and prescribed fire).  All four of the species have similar habitat requirements, are all being impacted by WNS, and all are likely candidates for future listing.
Development of the Bat HCP is supported by senior leadership in each of the states (MI, MN, WI), with grants and contracts being administered by MI.  An outside contractor (ICF International) has been hired to develop the Bat HCP while working with a steering committee of representatives from forestry and endangered resources with each state DNR.  All three DNRs are committed to covering all non-federal forest lands through an opt-in process that could potentially extend coverage to more than 80% of the region's forested land.
For the Lake States, the race is on to get the Bat HCP completed before NLEB or other bats are listed as endangered.  Expectations for the Bat HCP completion date have been pushed back in recent months, with the end of 2019 is now viewed as the best estimate for when the Bat HCP will be finalized.
Lake States Bat HCP Timeline: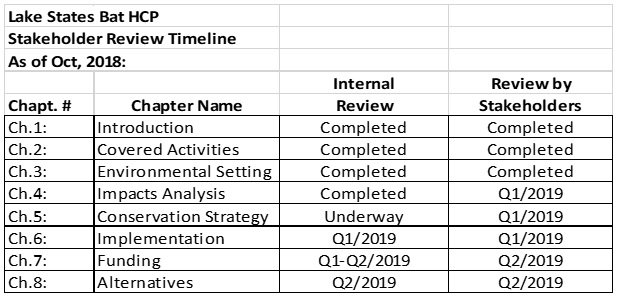 Opportunities for Public Comment:
The Steering Committee reportedly plans to complete its internal review of Chapter 5 in early November, so the public should expect to see drafts of Chapters 4 and 5 by the end of December.  It is anticipated that a stakeholder review and comment period for Chapters 4 and 5 will occur in early 2019.  Chapter 5 is regarded as the most important chapter in the Bat HCP, as it will detail the conservation measures required by the Incidental Take Permit.
This Bat HCP is a very important project.  There's a lot at stake.  There's soon going to be a lot of material released to the public to review, and there will be comment periods.  Stay tuned….!
Why it's Important: Lake States Forest Management Bat Habitat Conservation Plan (Bat HCP)