By Steve Kariainen, HFHC Great Lakes Director
The recent editorial, "Recognizing what forest products, jobs mean to the region" did a great job of highlighting the importance of active forest management in maintaining the health of the region's forests and rural communities.
The editorial also quotes the U.S. Forest Service (USFS): "During National Forest Products Week, we celebrate the value of America's forests and the products they provide while we recommit to sustainably managing these splendid natural resources to meet our nation's needs…"  While it's heartening to hear the USFS speak of recommitting to sustainable management of our nation's forests, one can only hope the words will be transformed into actions.
The following graph details the decline in the USFS annual timber harvests over the past 35 years: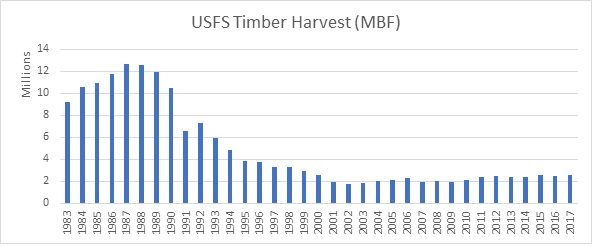 Back in the 1980's, our federal forests were actively managed, with timber harvests on USFS lands averaging over 11 billion board feet nationwide for the five-year period between 1983 and 1987.  The Lake States timber harvest on federal lands for the same timeframe average 489 million board feet.
For comparison, the Long-Term Sustained Yield (LTSY) for the USFS Lake States is set at 779 million board feet, and the annual Allowable Sale Quantity (ASQ) is 582 million board feet.
Fifteen years later, the average harvest on the nation's federal lands for the five-years from 1998-2002 had dropped to 2.5 billion board feet, and the average annual harvest of Lake States federal lands dropped to 407 million board feet.
The latest national data for the five-year period 2013-2017 shows the average annual timber harvest on USFS lands holding at 2.5 billion board feet, while the average harvest on USFS lands in Lake States region has dropped to an average of 321 million board feet.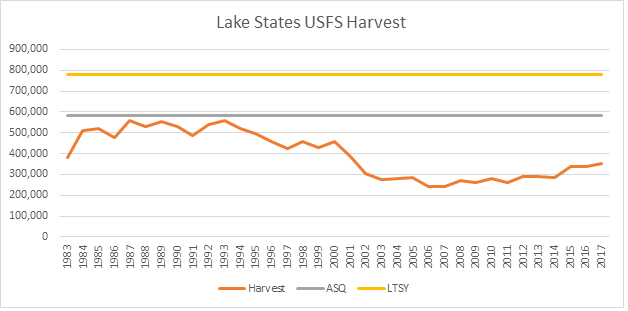 While the long-term decline in timber harvest volume from federal forests in the Lake States has not been as severe as it has been in other regions, it still has a big negative impact.  The impact affects forest health and the health of our local communities.  And just think what an addition 200 million board feet of timber could mean to this region!
Sustainable forest management is not a spectator sport.  It requires active forest management.  It involves a continuous cycle of harvest, regeneration and growth.  It uses science and economics to guide forest management and timber harvest decisions essential in planning species composition, timber stocking levels, and age class distribution.
The Good Neighbor Authority which was included in the Farm Bill has helped by enabling some state and local forestry units to assist the USFS in timber sale setup and administration.  Stewardship Contracts are another tool that is being used more often in certain areas to combine timber harvests and other services in one package.
Kariainen: Maintaining the Health of the Great Lakes Forests and Rural Communities