Washington State Representative Jim Walsh understands how the listing of the Northern Spotted Owl devastated communities in his district and others in western Washington. That's why he's concerned about the Washington Department of Natural Resources' Marbled Murrelet Long Term Conservation Strategy (LTCS), which could shut down timber harvesting on tens of thousands of acres of state trust forest lands.
The plan is intended to conserve habitat for the murrelet, even though it will likely have no impact on the small seabird's population in the state.
In addition to supporting jobs in Washington timber communities, timber harvests on DNR trust lands provide funding to support public school facilities and community services such as public safety and libraries. Yet the DNR has not provided meaningful information to the public about how the plan would impact local economies or how it would impact funding for local public services, including schools and fire districts.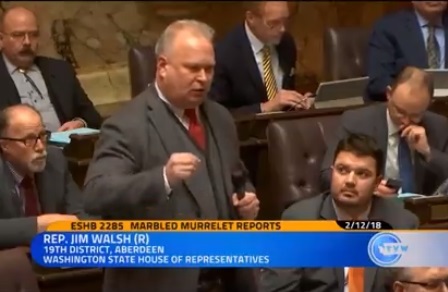 Walsh has led efforts to bring transparency to the murrelet conservation plan and the process behind it. During the 2018 session, Walsh urged his colleagues to do all they can to mitigate the economic damage this plan could cause to working families in rural communities. He fought for legislation that would require DNR to consider alternatives that better protect Washingtonians.
Yet, the agency continues to proceed with a sweeping conservation strategy that the public knows very little about.  It has released a Revised Draft Environmental Impact Statement (RDEIS) on the plan, and only recently shared high-level economic estimates of the plan's likely impacts on the citizens and trust beneficiaries who would be deeply impacted by the decline in timber harvesting. 
On Oct. 9, Walsh sent a letter to Public Lands Commissioner Hilary Franz to express his concern about the lack of substantive fiscal and socioeconomic impact information provided by the agency: 
"While the RDEIS represents a massive document with considerable information about the alternatives being considered, the document does not provide projections of the likely impacts of the LTCS alternatives to local employment levels or to trust revenues received by the beneficiaries. These trust beneficiaries include counties, school districts, universities, hospitals, and other public entities that provide critical services to our constituents," Walsh wrote.
Thanks to Rep. Walsh's efforts, the DNR has extended the public comment period on the RDEIS to December 6, and it is critical that we submit comments.  We hope he is also successful in convincing the DNR to be transparent about the plan's full economic impacts. In the coming weeks Healthy Forests, Healthy Communities will inform you on how to participate in this process. 
Jim Walsh seeks transparency on DNR's murrelet plan, impacts on jobs, communities, schools