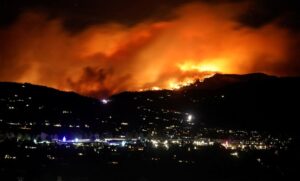 This year over 3.8 million acres have burned on U.S. Forest Service-protected lands, an area larger than the size of Connecticut.  
There have been 6,046 fires on these lands, which is just 13 percent of the 46,466 fires started in 2020. Yet they account for 45 percent of the total acres burned.
Records continue to be broken.  California has seen its largest wildfire in history, the August Complex Fire that has burned through the Mendocino National Forest.  Colorado is also witnessing its largest wildfire, the Cameron Peak Fire (pictured here) that is burning through the Arapaho and Roosevelt National Forests and threatening nearby communities.
Due to active wildfires and high fire danger, national forests from Wyoming to Arizona are either completely closed or restricted. 
Many of the fires on our national forests have burned at high severity, severely damaging wildfire habitat, watersheds and popular recreation areas. Research (see article below) continues to show that forest management can help reduce tree mortality that fuels today's megafires.
Nearly 50 percent of the 193 million acres of the National Forest system is currently at high risk of wildfire. But at the current pace, it will take the Forest Service nearly 30 years to treat these acres. Now it is estimated the U.S. Department of Agriculture will need three times more funding than current resources to mitigate and fight wildfires in 2021.
If you've had enough of our national forests going up in smoke, you have yet another reason to vote on November 3.  Tell your federal representatives to that our national forests need active management to reduce fire risks by clicking here.
Another bad wildfire year for our national forests