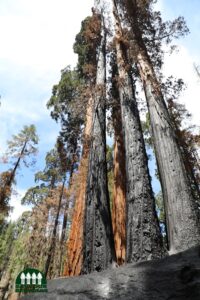 In Washington, DC, there is intense political debate about whether federal laws and regulations provide enough protections for old and mature trees. This debate often ignores real threats to these trees and the practical and bipartisan solutions that exist to save them.
Consider California's iconic Giant Sequoias. Heavy fuels have created tinderbox conditions within the state's famed old-growth Sequoia groves. This build-up of fuels has contributed to high-severity wildfires, resulting in the loss of nearly one-fifth of all Giant Sequoias in just a 15-month period from 2020 to 2021.
Until recently, Giant Sequoia fire deaths were "almost never observed by scientists," the National Parks Service said.  Yet extraordinary efforts, such as wrapping the root crown of General Sherman in fire protective "space" blankets, were necessary to prevent further losses as the fires raged.
Despite the looming threat to the remaining Giant Sequoias, federal land managers have not been able to increase the pace and scale of treatments necessary to restore Giant Sequoia resiliency to wildfires, insects, and drought. At its current pace, it would take the U.S. Forest Service approximately 52 years to treat just their 19 highest priority Giant Sequoia groves at high-risk of experiencing devastating wildfires.
In response, Rep. Kevin McCarthy (R-CA), Rep. Scott Peters (D-CA), and others have introduced the Save Our Sequoias Act that prioritizes proactive, science-based forest management to reduce fuels, which will not only improve the health and resiliency of these thousand-year-old trees but also enhance air and water quality and protect critical habitat for important species like the Pacific Fisher.
The SOS Act will provide land managers with the emergency tools and resources needed to save these giants. It will improve interagency coordination, utilize robust scientific analysis to triage high-priority areas, codify and streamline emergency procedures to expedite environmental reviews, and provide land managers with critical new tools and resources. Read more about the bill here.
Healthy Forests, Healthy Communities supports the bipartisan Save Our Sequoias Act, and hopes it will help lead to more reforms to accelerate forest management on other unhealthy, overstocked and fire-prone federal lands.